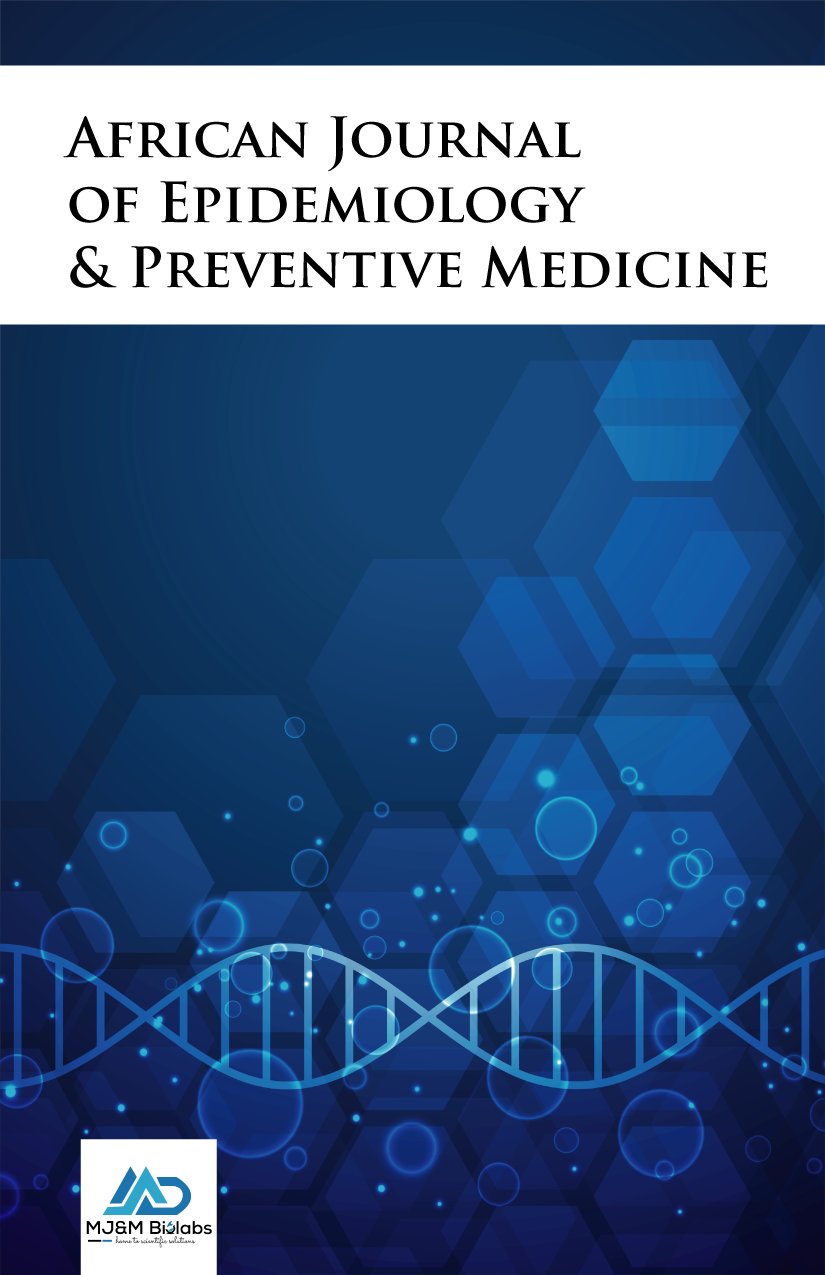 The African Journal of Epidemiology and Preventive Medicine (AJEPM) is a reputable scholarly publication dedicated to advancing the field of epidemiology and preventive medicine in Africa. Our journal serves as a platform for disseminating cutting-edge research, critical reviews, and expert perspectives, aiming to foster evidence-based strategies for disease control and prevention. AJEPM encourages collaboration among researchers, policymakers, and practitioners to address the unique health challenges faced by the African continent.
AJEPM covers a wide range of topics within the field of epidemiology and preventive medicine, including but not limited to disease surveillance, outbreak investigations, epidemiological studies and methodologies, public health interventions, health promotion, risk assessment and management, environmental and occupational health, health disparities and social determinants of health, vaccinology and immunization programs, epidemiological modeling and biostatistics, as well as health policy and health systems research.
We uphold the highest standards of scientific rigor through a stringent peer review process. All submitted manuscripts undergo thorough evaluation by renowned experts in the field, ensuring the originality, quality, and relevance of the research. Our double-blind peer review system allows for unbiased assessments. We strive to provide authors with constructive feedback, and our average turnaround time for the review process is approximately 28 days, enabling timely dissemination of research findings.
AJEPM is a proud member of CrossRef, Google Scholar, and LOCKSS (Lots of Copies Keep Stuff Safe). These memberships enhance the discoverability, indexing, and long-term preservation of our published content, ensuring its availability to a wide range of readers and researchers.
We operate under an open access model, ensuring unrestricted access to our articles. We believe in the free flow of knowledge and the democratization of information. All published articles in AJEPM are licensed under the Creative Commons Attribution License (CC BY), allowing for the sharing and utilization of the content, provided proper attribution is given to the original source.
Editor in Chief: Prof. Jackie Obey
ISSN (print): 0000-0000
Frequency: Quarterly